My newly acquired Ruger No. 3 is such an early vintage that it was not drilled and tapped for a scope mount. That was something Ruger added in another year or two.

Okay, no scope, but the factory William's flip up rear sight is really too tiny for anything but the best lighting conditions, so not much of an option for my shooting. A better solution would be a barrel mount peep sight by Skinner via the rear sight dovetail. Had one of those on hand, but no go. The sharp taper on the Ruger barrel was too close to the dovetail for the Skinner to fit.
Okay, so what about a red dot? Not my first choice on such a traditional rifle, but it sure beats the wimpy factory rear sight for practicality, plus I just happened to have one of my favorite red dots, the Burris FastFire 3 on hand. How could I mount it to the No.3 if there were no holes for a scope base, though?
Skinner Sights to the rescue, again. I also happened to have one of Skinner's very useful Dovetail Slot Scope Mounts which you can find on Skinner's website under the
http://skinnersights.com/scope_mounts_31.html
(scroll down mid-page). I always keep one on of these dovetail slot scope mounts on hand so that I can add a red dot to an older rifle that has no option for a regular scope mount. Just remove the rear sight and then tap in the the dovetail slot scope mount and you have a weaver scope mount for a small red dot. Very clever design.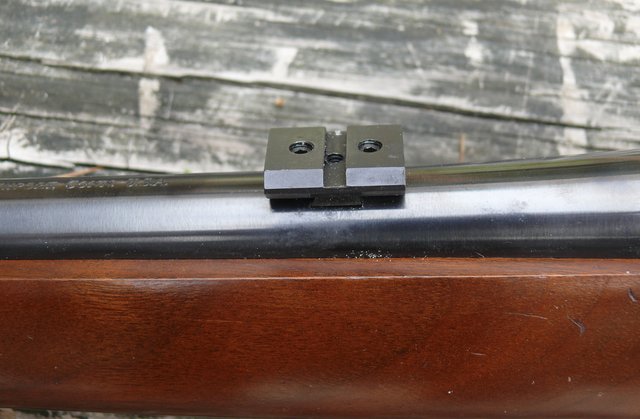 Perfect fit with the Burris Fastfire. Now the Ruger No. 3 is ready for some serious range work.