Spring is here. Get out and enjoy some shooting. Wash your hands often. Happy Birthday to US !
---
I can probably narrow it down to two. First my old model Colt Trooper 357 . I bought it used in 1968 and I started reloading ammo for it as my first efforts in making my own ammo. It has the same insides as the Python and I dare to say after about six thousand rounds of mostly my own ammo, it is just as smooth as a Python. Second is a first year , 1931 S&W K-22 Outdoorsman. I paid $60 for it and then it was just an old K-22. Many years later after researching the serial number, I found out that it was from the first year that they were made.
---
That is a great "short-list!"

Howard
---
My dads 'Victory' model $ & W .38 Special
A colt New Frontier .22
A Mod 19 S & W
A Colt Combat Commander .45
A Browning High Power owned by my cousin.
---
Deputy Marshal
Posts: 1099
Joined: Tue Aug 21, 2018 11:26 pm
Location: California Territory
My Springfield Armory 1911-A1 mil-spec and my Ruger BH in .357 with 6.5" barrel. I stopped right there. [for now!]
---
Great, great, picks so far!

Howard
---
Drover
Posts: 3636
Joined: Mon Mar 21, 2016 12:56 am
Location: Somewhere between Memphis & Nashville
The Black Hawks, Vaqueros and my Colt King Cobra.
RP
"Out here we appreciate a spirited women Almost as much as we do a spirited Horse". John Wayne
Made In America, Or Not Made At All
H001, H006, H012
---
Deputy Marshal
Posts: 1099
Joined: Tue Aug 21, 2018 11:26 pm
Location: California Territory
Ruger Blackhawk's are stout! They're tanks! All in a good way. Sorry for slight hi-jack Howard. Too much dark roast.
---
---
Firearms Advisor
Posts: 3624
Joined: Thu Apr 07, 2016 12:46 pm
Location: northern Wisconsin
1. Ruger Single Six 22 LR - my first handgun and the one that started my addiction to SAs and handgun hunting
2. Ruger Super Blackhawk 44 mag - my first deer "rifle" and the one that hooked me on the 44 mag
3. Ruger Standard 22 LR semi-auto (MK I vintage) - my first semi-auto 22 LR
4. TC Contender - the gun I used in silhouette, hunting and target shooting
5. Any 1911 - the only semi-auto centerfire I care to shoot, anymore.
Although I no longer have the originals, I do have multiples of each of varying vintages and configurations and, of course, I shoot them a lot. We do have other handgun models chambered for other cartridges, especially single action revolvers, but the above 5 have been the most influential handguns in my life by a very wide margin with the two Ruger single actions being especially noteworthy. In my early years, all I cared to shoot. Didn't even bother with rifles.
Yes, we do have double action revolvers and we shoot them, but I was shooting single action revolvers for over twenty years before I bought my first DA revolver and still prefer single actions to this day. Guess I've always been a cowgirl at heart.
My idea of a purse gun - SBH 44 mag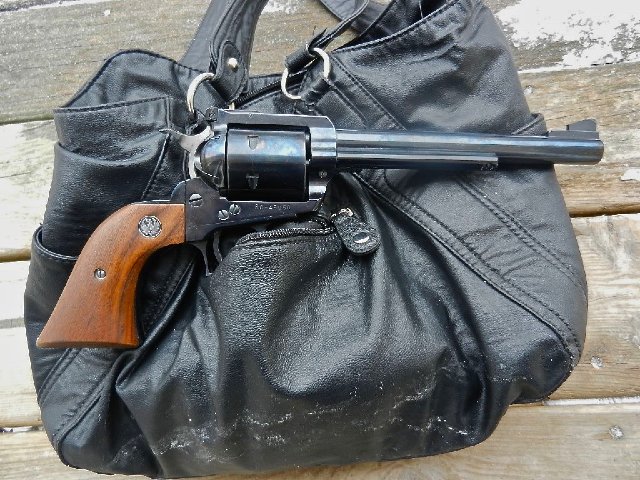 Last edited by
North Country Gal
on Tue Mar 24, 2020 11:19 am, edited 2 times in total.
---