I thought I'd document my journey to a mile, two summers ago, with my new C-14 Timberwolf. First off, a big thank you to Steve from EM Precision for really encouraging me 5 years ago to get seriously into long range precision shooting. If it wasn't for him and his skills as a builder and teacher, I'm not sure I would have been able to do this.
First....the rifle. This is my second rifle from Ross at PGWdti. (My other is a Coyote in .308win.)
It is a C-14 Timberwolf in .338LM. The scope is a NF NXS 8-32x56 over a Spuhr +20moa mount. The bipod is by LRA, their F-class. (Although the lower picture shows a light tactical model to accomadate an LRF by SilencerCo.) And that brake is an EM Precision ShockWave installed by Steve.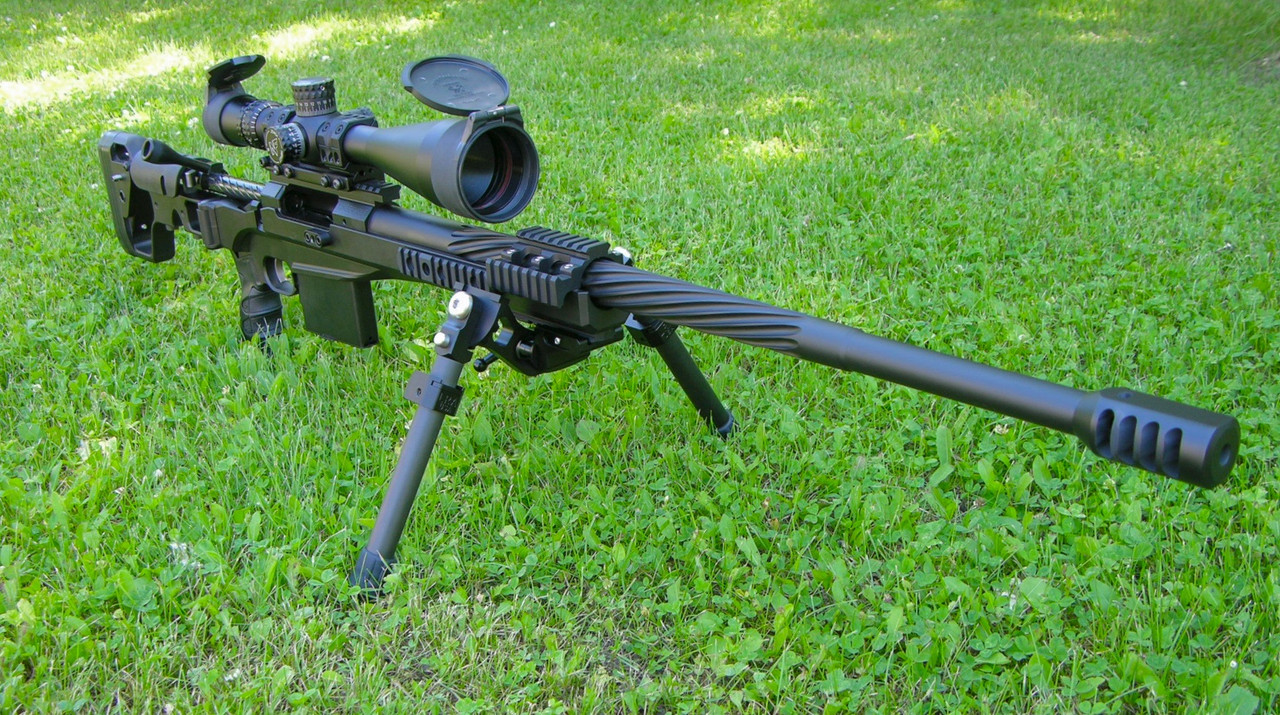 So load development went well with me finding a sweet spot with 93.6 grains of Retumbo. The brass is Lapua, the primers Federal 215's, and the bullets are 300 grain SMK's. Then came the seating depth tests with three depths (.005", .010", .015"), with the .010" jump being the best. Easy. (BTW, all load/seating tests were done at 201 yards.)
So, onward and outward to a mile. Well there were a few problems along the way. When I decided to try the mile, I had just been out to a friend's place plinking to 1050 yards. The rifle (and me) were more than capable with me getting bored quickly and not wasting much ammo. This made me want to try the mile the very next day.
The first problem was with the iSnipe software. Out beyond 1000m, it appeared to be "off". It got worse the further out I went. Frustrated, I asked for help from a couple who enthusiastically helped me with spotting. (Thank you Rob and Barb!) I was on steel at 1500m in four shots. Again, the math did not jive with iSnipe. At that distance, I was over 4moa high. Oh well, now on to the mile.
After three shots to make adjustments, with help from Barb, I managed my first hit at a mile! I gave Mr Smiley Face a new nose...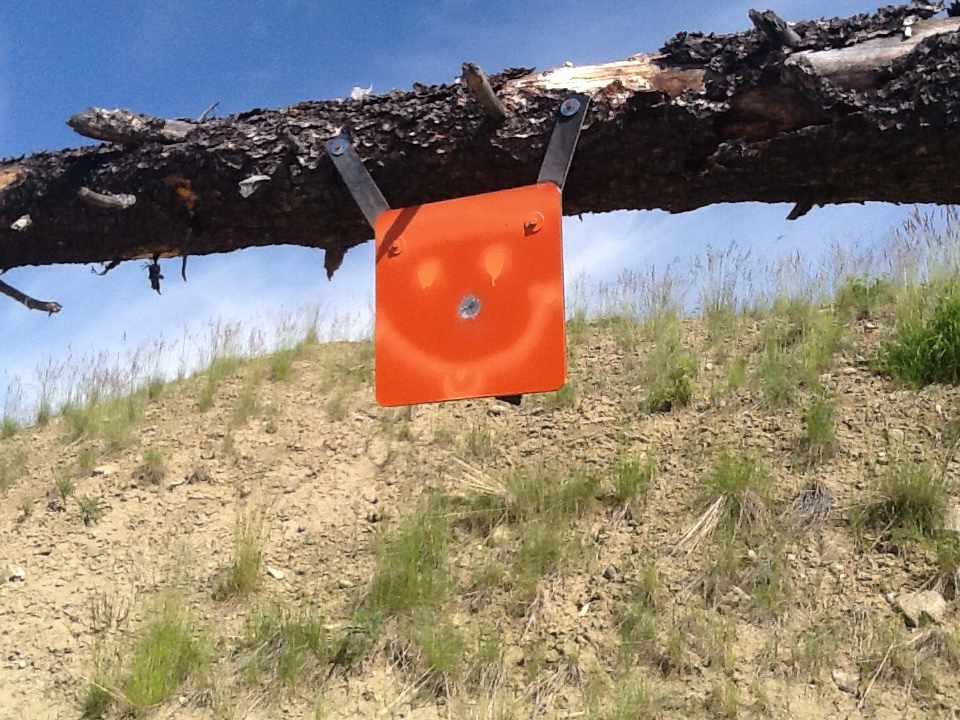 Not a bad shot. I followed this up with two more hits at the mile and eight at 1500m. I was pumped. But the damn math was puzzling. Thinking about it on the way home, I decided to try Applied Ballistics since I had that app on my iPad. After entering all of the data, I proceeded to roll up some fresh ammo for the following week.
BTW, here's me posing with my first hit. (Gratuitous, I know!)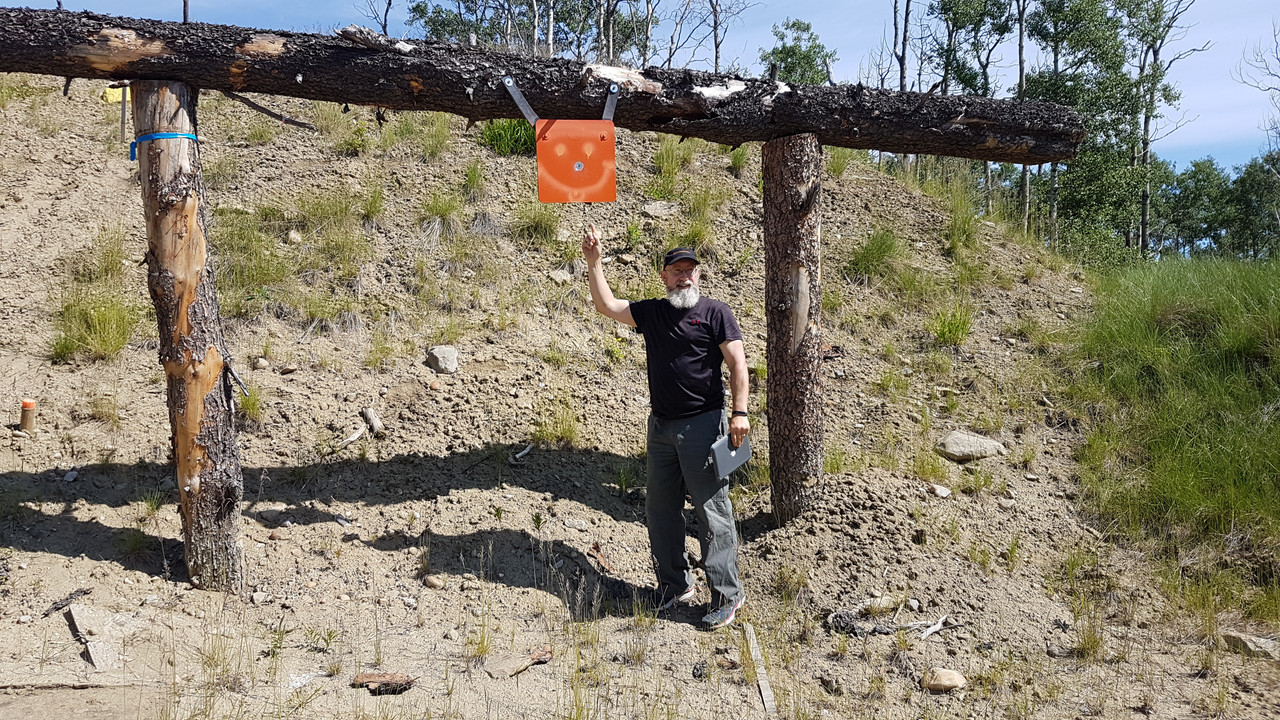 A week later, I had Applied Ballistics working very close to what I had experienced a week earlier. I managed to walk the rifle out from 800m to 1500m. I then zeroed my scope at 1500m. (I know, a long way out to do that, but I had dead centre hits once I got it set.)
I tried a 5 shot string at the mile. The first three were nice hits. Then I guess I got excited and missed the fourth shot. Then the fifth, while still hitting the steel, went high left.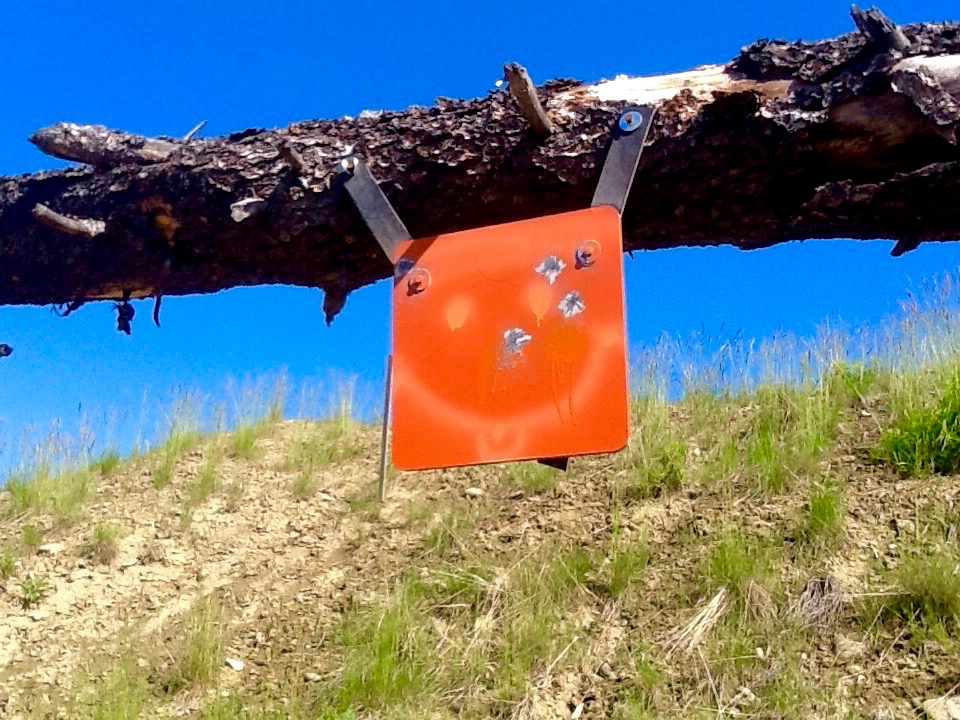 Oh, and I did paint over my previous week's hits before i started (you can just see the "make-up" that covered my original hit). Again, I gave Mr. Smiley Face another nose. And the two other shots were just over 4 inches. I know it's only a three shot group, but hey....I'm pretty new at this distance. The fifth shot can be seen high left on the gong.
The totals today were my best ever at this ELD. With 12 hits at 1500m and 8 hits at the mile. (I then rechecked my zero at 1000m and it was dead on.)
So I learned a great deal. Yes, I need much more practice. But it sure was a fun process. And I just may have a chance to extend things out beyond two miles in the fall....we'll see.
Technical info:
Powder: Retumbo 93.6 grains
Primer: Federal 215 magnum
Brass: Lapua
Bullet: Sierra Match King 300 grain
Headspace: 2.319"
Ogive length: 2.966" (.010" jump)
Trim length: 2.714"
Velocity: 2805fps S.D.= 8 (10 shot string)
Footnote: I have since "graduated" out to a mile and a half with a .50BMG (
B
ig
M
an
G
un) Just too much fun...and too hard on your wallet!