If I haven't been posting much in the way of range reports these last few weeks, it's because winter has arrived early in our north country. We've been consistently 10 to as much as 20 degrees below our normal temp for this time of year. The shallow lakes are icing up and we are getting light snow on a regular basis. Cold hands are now a big factor when shooting outdoors, making for impractically short shooting sessions. What's a gal to do?
Shoot indoors, of course, just like she does every winter. That means shooting air guns in our basement 10 meter range. !0 meters is an ideal distance, of course, since a lot of airgun competition is shot at this distance. Not that I'm competing with anyone but myself, of course.
It usually takes me a week or two to get back in the groove of offhand 10 meter shooting and this season has been no different. Finally got one of those wall hangers, today, though, and with one of long-standing favorites, too, in my HW30S, .177 cal with a peep sight. This was my first ever HW (Weihrauch) air rifle, making it one of my sentimental favorites. (By the way, the HW30s, also known as the Beeman R7, is the sweetest shooting spring piston airgun in the world. Just about every spring piston air rifle fan owns one. I have two. )

And this is what this little jewel of an air rifle can do. That one shot did break the 10 ring line, so I'm counting it as a 10.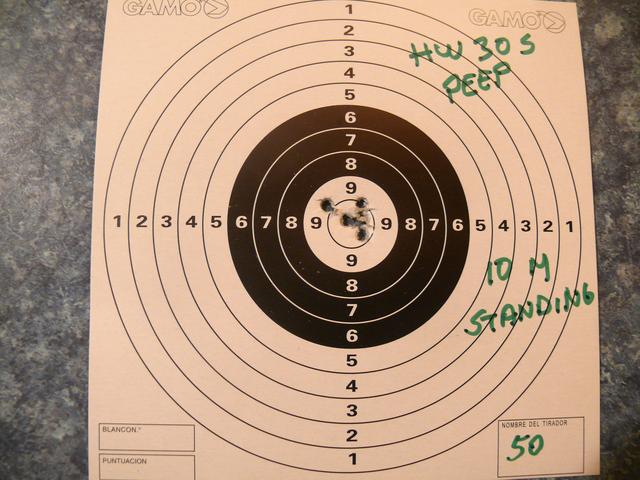 No, I'm not going to do an airgun range report every day, though I do shoot almost every day during my winter indoor airgun shooting season. Just wanted you to know that crazy shooting addict me is still shooting, same as always. Also a reminder that if you love shooting and haven't discovered airguns, you are really missing out on a whole world of shooting that can be done right at home. And, yeah, it will make you a better shot, no matter what kind of gun you shoot.