We finally made it to the range, yesterday, after over a week of terrible shooting weather. Not surprisingly, given our urge to shoot, we took more guns than we should have. Took revolvers, semi-auto pistols, a couple excellent CZ rimfire bolt guns and just as we were heading out the door, decided to throw in one more with our Winchester/Miroku 1885 Low Wall Rimfire Hunter in 22 LR. And, why not? From experience, we both know that shooting a falling block single shot is a sure thing for making any shooting trip one to remember.

This Low Wall 22 LR is the pefect example of a gun that is greater than the sum of its features. We have more accurate 22s, but this 1885 is very accurate. It takes a real match grade rifle to beat it. We have 22 rifles with better triggers, true match grade triggers, in fact, but the trigger on this one, like all our 1885s is what I call a good hunting trigger, breaking with a clean and ever consistent three pounds of pull. We have 22 rifles with fancier wood, some even with engraving. And, of course, being a single shot, we have guns that shoot much faster. Oh, yeah, I felt a little outdated, what with two guys shooting ported AR style rifles on either side of us, yesterday.
Here you see why these are called falling block single shots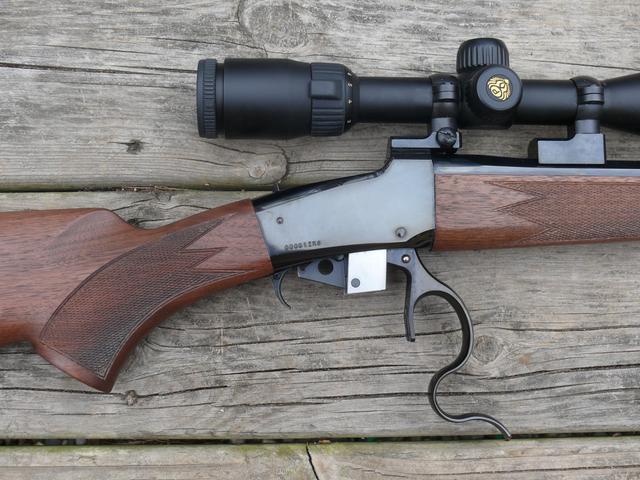 This one wears and excellent 3-9x Nikon Prostaff EFR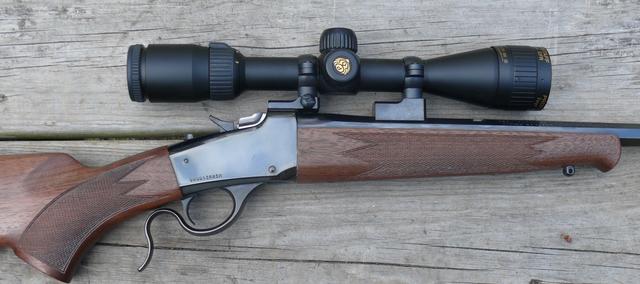 Was getting a bit fatigued after shooting 4 other guns, thee handguns and an excellent CZ 457 bolt gun, bit no way was I going home without shooting the 1885. We forgot our sandbags at home, so cobbled a rest together from what I could find at the range. No problem. This a hunting rifle, after all, not some fancy bench gun. Wasn't sure what ammo I had used to sight in the scope, so shot one for effect with the Eley ammo. Just a touch low at 50 yards, so went three clicks up on the elevation with the Nikon.
That's seven shots in the orange, by the way, not my usual 5, since I couldn't see any effect with two of them.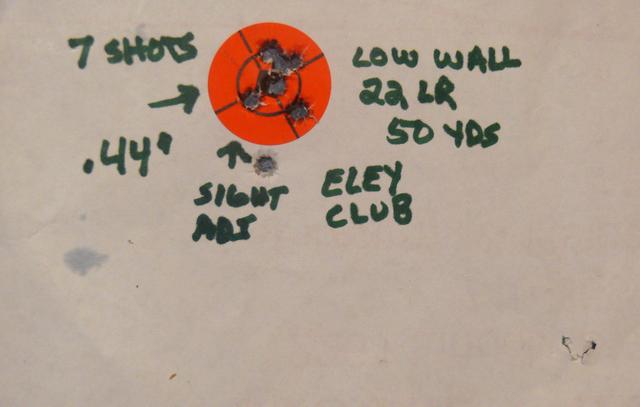 Again, this is a hunting rifle. They didn't label it a Low Wall Hunter for nothing, so time to shoot it without a rest. Once, again, no way to shoot from a standing position, so just went to my sitting offhand position, shooting with no support for the rifle, just some support for my butt.
3" bull, scope at 4x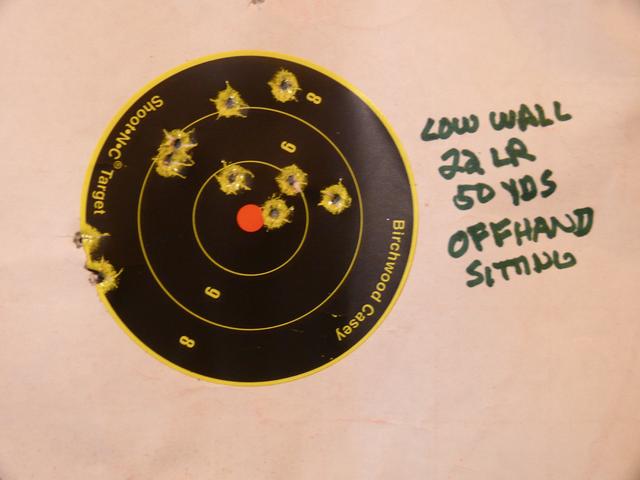 I should add that I had to nag Bill to hand over the 1885, once he started shooting it, even though he had been shooting one of our scoped rimfire CZ bolt guns with a tuned trigger. He just couldn't stop shooting the Winchester. This Low Wall 1885 is just that kind of gun.