Here's the last of the new, unfired Old Model Ruger single actions we purchased (financed by selling off some other guns). This OM Blackhawk is kind of an odd duck in the single action world, given that win it is chambered in 30 Carbine, a rifle round. Back in the late 60s, Bill Ruger thought it would be great to chamber a Blackhawk in the 30 Carbine because ammo was so plentiful and cheap. Should make a fun and unique single action to shoot.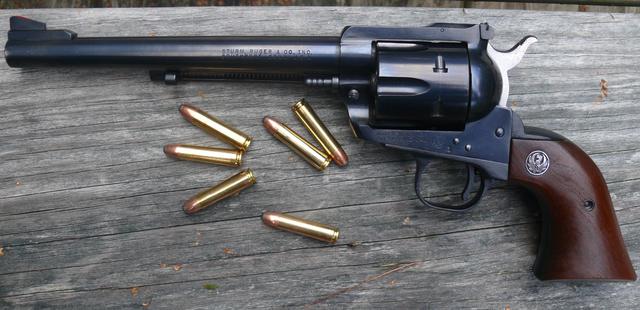 It's also odd in that it's a Blackhawk with a long 7 1/2" barrel, a length usually reserved for the 44 mag Super Blackhawk, the idea being to better handle shooting a rifle cartridge for the sake of burning more powder. No doubt about it, this is one big, heavy Blackhawk.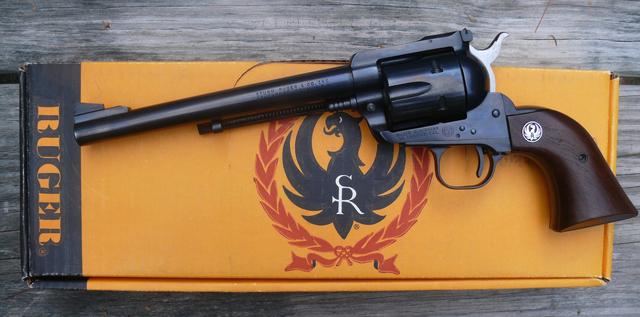 In doing research on this unusual Blackhawk (still in production, by the way), I encountered a lot of negative comments by the "experts" who decried the idea of shooting a rifle cartridge in a single action. I also found it interesting that Ruger collector's have shied away from it, possibly for the same reason. On the other hand, I was floored by all the owners that said, yeah, maybe not too practical, but we love it and no way would we sell it. It's just too darn much fun to shoot.
And fun it is ... and loud ... lots of bark. Recoil, though? What recoil? Yup, exciting, but oh so sweet to shoot. And, it's accurate.
Here's my first shot, ever, out of a gun that has been sitting, unfired, since 1973, the last year for the three screw Old Model Blackhawks. A little high. Adjusted down a few clicks, put 5 in the black and to make it an even six, loaded one more and put it with the rest. (I never sight in a revolver off a rest, since I never shoot a revolver off a rest.) Great start for this classic Ruger SA.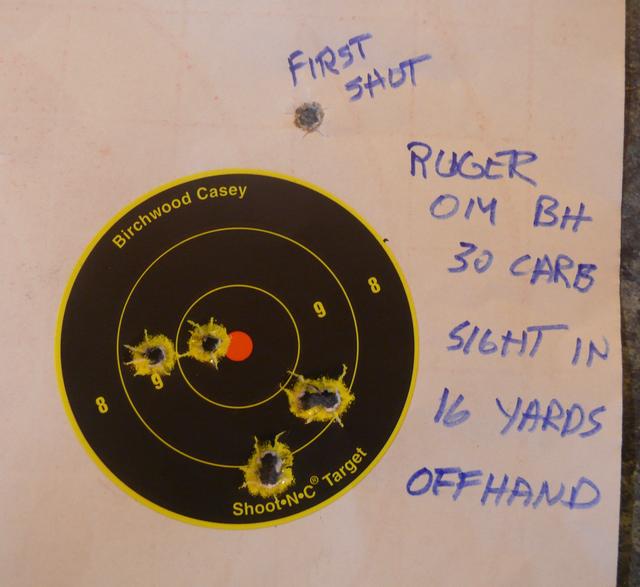 50 yards? Why not. Didn't want to re-adjust the sights, so had to do a little trial and error on the hold, but once I had it down, managed six in the black. Can't ask for more than that.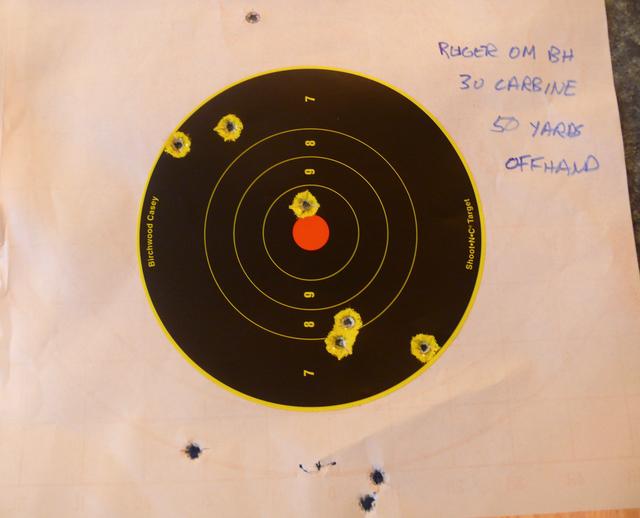 Yup, this one I do shoot. No regrets ... not a one.