Yeah, I got it bad with the Colt style single action revolvers, but they just fit me so well, almost like they were made just for me. Getting so bad now with the urge to shoot my Uberti Colts, that when I see a western with someone shooting a Colt, it makes me want to drop everything and go shoot my Colts. Happened last night, in fact. We were watching Last of the Dogmen with Tom Berenger (love the movie) and his sidearm was a Colt (and the rifle a Winchester, of course).
So, today, despite having a lot of errands to run, I whined enough to get Bill to stop for a short range session with a couple of the Colts. Couldn't just shoot the Colts any old way, of course. Had to do the one hand shooting thing. I blame some of you guys for that (you know who you are
).
First up was my Smokewagon 357. Have tuned the sights for standard 158 grain 357 loads with this Colt (no 38s in this baby).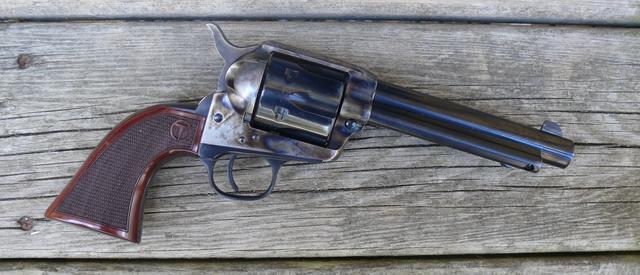 Warmed up a bit to get the feel of the Smokewagon, then leveled it off, using a one hand hold. First few shots were not my best, so I knuckled down and then darn near shot a one hole group. Was having so much fun, did not notice the recoil, which was "lively", but by no means nasty.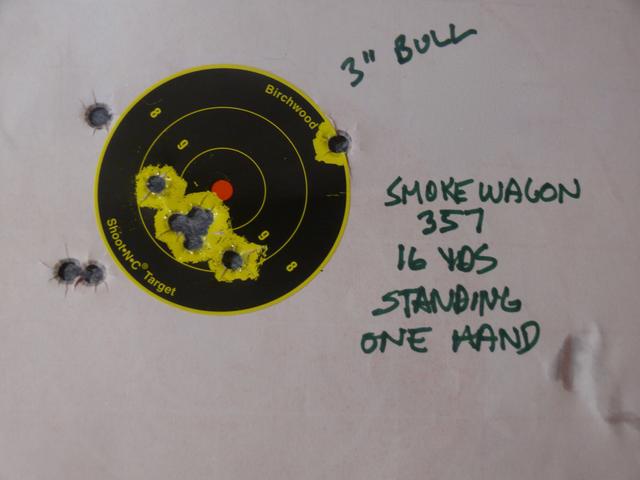 357s are practical and effective, of course, but a Colt just isn't the same if it isn't a 45 Colt. This is my Ranch Hand in 45 Colt, sights tuned for standard 250 grain loads.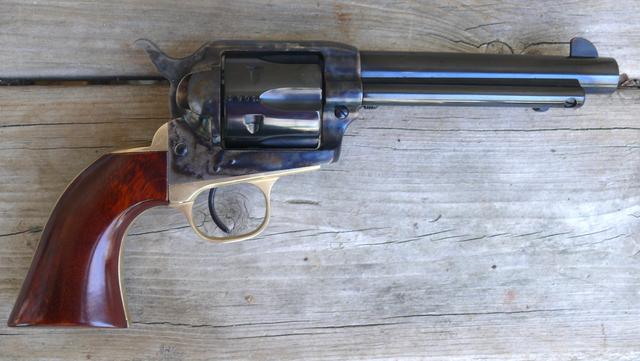 Did well at 16 yards, but have never tried 25 yards with this Colt, so ... why not? Held at six o'clock for the first 6 shots. That's the six on the bottom. Figured that was close enough to dead on, so shot the next one holding on the red dot in the center of the 6" bull. Almost nailed it. Big smile, followed. Then kept most of the rest in the black.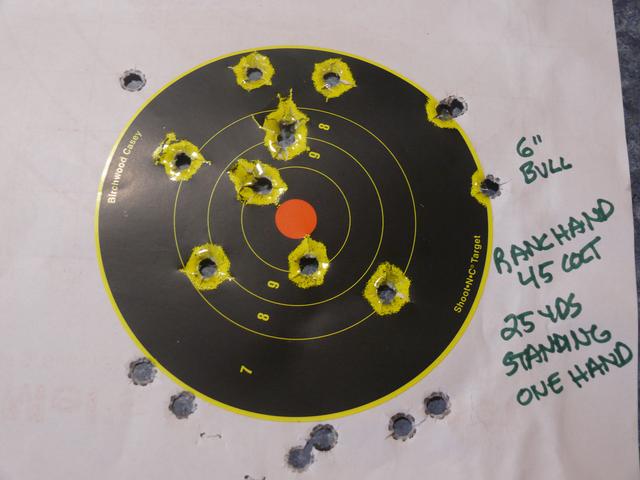 Learned a lot about shooting these Colts, today, and all to the good. Was very pleasantly surprised to learn that shooting these classic Colts with one hand is remarkably effective, far better than I expected. In fact, one of the easiest to shoot revolvers with a one hand hold I've tried. Nothing new there, of course. Folks have been shooting Colts this way as long as there have been Colts. Leave it to me some 150 years, later, to figure it out.
Better not watch a western, again, tonight.