Really love my Taylor/Uberti RanchHand 45 Colt. Looks good, shoots great. Just needed the usual front sight trimming to get the elevation where I wanted it (standard procedure on an SA with fixed sights). By no means an ugly gun, either.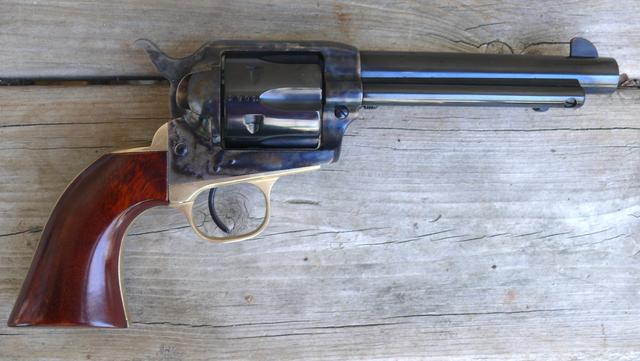 Got in kind of a jam, though, a few weeks back at our local gun and pawn shop. We had traded in a couple of dust collectors from our collection and really didn't need another gun, but ... there it was, another Taylor/Uberti 45 Colt. This one, though, really caught my eye. It's a photo engraved Colt with a coin finish frame. What can I say? I was weak. Couldn't pass it up, especially because the action and trigger were beautiful, even though it was not a Taylor tuned version.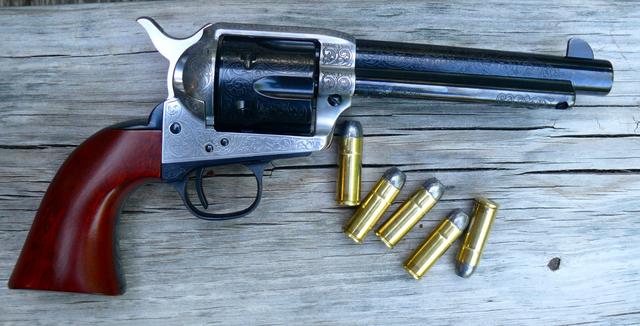 Took it to the range for the usual sight check, hoping the windage was right and, of course, hoping it shot low or right on for elevation. (A fixed sight gun that shoots low is an easy fix by filing down the front sight as needed. In fact, the ideal is a gun that shoots low so you can file as needed for you particular load. A fixed sight gun that shoots high, though, is a real headache. Pretty hard to add material to a front sight to bring the point of impact down.)
Fortunately, just what I wanted. Here's the way to shot, right out of the box with standard 875 fps 250 grain 45 Colt loads. Fifth shot just below the paper.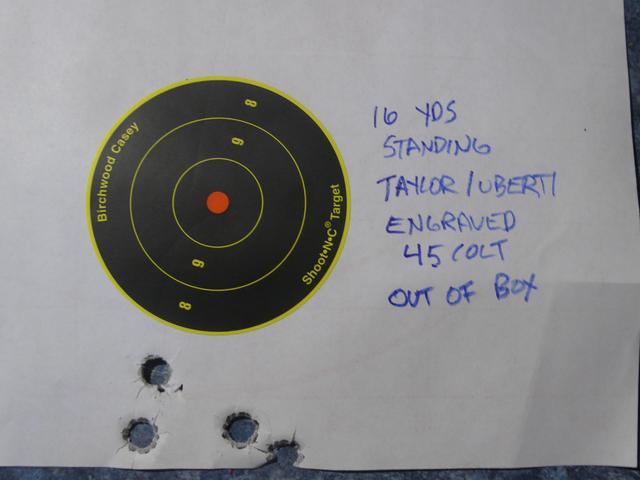 And with just a little bit of file work on the front sight, here it is with the same loads with a dead on hold in the center of the bull. The two outside the bull are me losing the sight picture in the black of the bull. That's the disadvantage of holding these Colt sights in the middle of a black bull.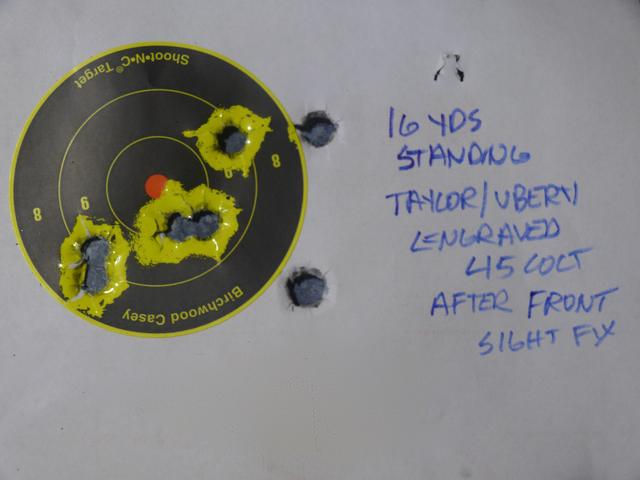 With cowboy loads shooting low, all I had to do was sight on the top of the bull, instead of the middle.
Yeah, it's tempting to file down the front sight even more to raise the POI so I can use my usual six o'clock target hold, but the cowgirl in me thinks its more traditional to have the sights on a Colt shoot dead on for any other shooting, say for steel or action work. Can always do that, later, though.
I also like the extra heft on this version with its steel frame instead of the brass. The brass Ranch Hand, though, I won't have to baby and that's nice. This fancy engraved one is also nice, but in a different way. Time to find a fancy holster worthy of carrying it.