I haven't posted much about my shooting of late, since the bulk of our shooting has been in the backyard with air guns, this year. We have been doing a little backyard shooting with the rimfires, though, because we do have steel bullet traps rated for rimfires. Out of consideration of our neighbors, we do use various types of low noise rimfire ammo when we shoot our 22s in the back yard, even though accuracy of this type of ammo is basically plinking grade. Nevertheless, accuracy is good enough for some serious offhand practice. Yesterday was a good example.

It's very hard for me to go too long without shooting our Winchester/Miroku Low Wall single shots, so yesterday I grabbed our trim Low Wall Hunter in 22 LR, above, for a workout. The Hunter series of these rifles are trimmed down versions of the 1885 for carrying out in the field for a long day of hunting or shooting. We love to shoot them at the range, though, because the weight and balance makes for nice handling and is also just right for my offhand shooting.
Note that, yes, I do use scopes for my offhand shooting and, in fact, I prefer scopes to iron sights for my offhand shooting. (I do keep a couple rifles setup with iron sights, too, to stay sharp with irons.) Getting comfy with scopes and high magnifications when shooting without a rest doesn't happen, overnight, but my scores have been better using a scope for a long time, now. Had the scope set at my preferred 9x on the Nikon Prostaff EFR.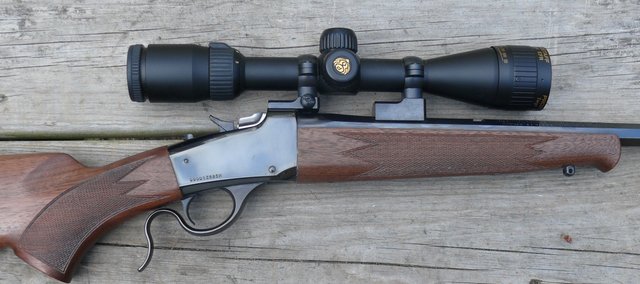 For ammo, I grabbed a box of CCI CB Shorts. Not ammo I would normally shoot in my beloved Winchester and definitely not ammo I would use at 50 yards, but I figured it would be worth a try at the 30 yard distance of our backyard range.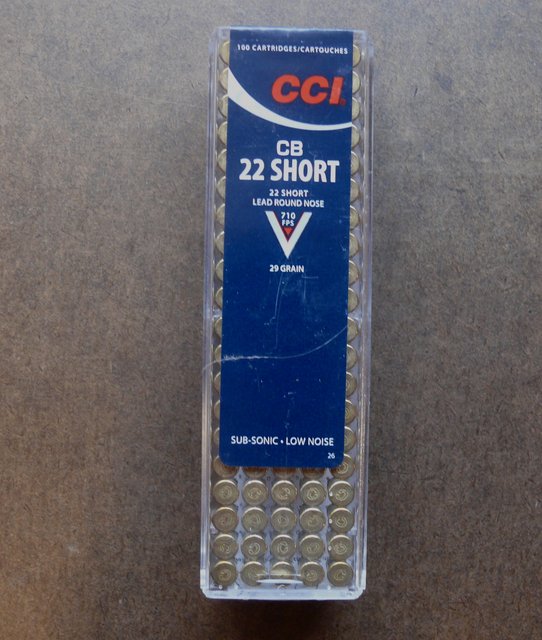 Did a few test shots from a rest to check accuracy and, have to say, not bad, so I went right to work for my offhand shooting. I used a 3" bull at 30 yards for my first target, dropping one hot a little low, ruining an otherwise good group. Again, quite surprised that CB ammo could shoot like this at 30 yards.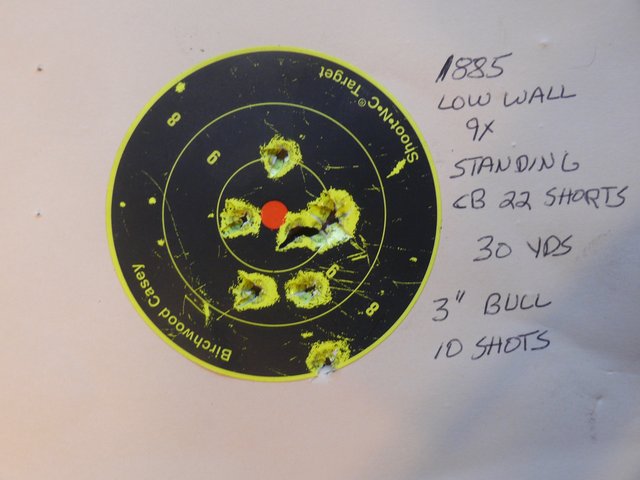 I decided to shrink the bull to 2" for the next try, figuring that might make me concentrate a bit better. It helped. Overall group size was similar, but without the one flyer on the first target.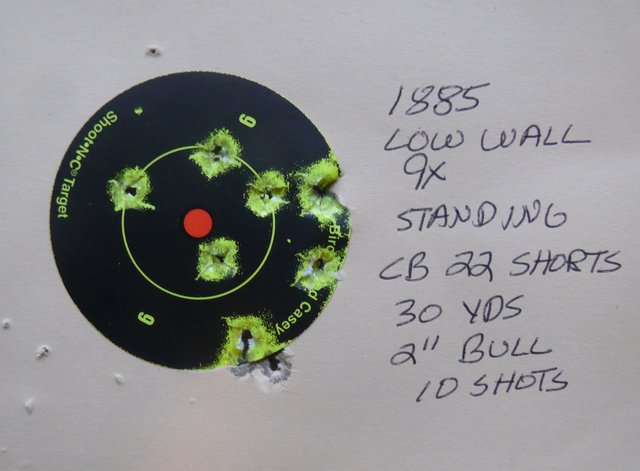 First thing I did after the session was clean the bore of the 1885 to remove any crud ring from the chamber from shooting Shorts, but I learned something from this session about CBs. Definitely not match ammo, but still very useful for practice at 30 yards. Best of all, with this ammo I can use my favorite 22s and keep them from collecting dust, shooting them in the backyard with even less noise than most of our airguns. Pretty cool.