Just though I'd add this post on budget grade PCP airgun shooting to balance out the last post on the very high end and expensive air gun shooting with the Daystate PCP rifle. Didn't want to leave the impression that you have to spend a ton of money to enjoy PCP air gun shooting. In fact, it's been my experience that there's sometime's surprisingly little difference in performance between some introductory grade PCP air rifles and the high end stuff. This Benjamin Discovery (or "Disco" as it's fondly called in air gun circles) is a great example of just what one of these affordable PCP air rifles can do.
We bought this very early vintage used Disco air rifle with pump for about $150. Also included an add on moderator for noise reduction. (The stock version can be a little noisy for a PCP.) One of the best buys I've made in an air gun in terms of performance for the dollar.

For a scope, I added an equally budget grade 4-12x AO in a used Bushnell Sportview. Optics and mechanicals are actually very useable, though, and since a PCP doesn't beat up a scope like piston air rifles do, this one doe a good job on the Disco.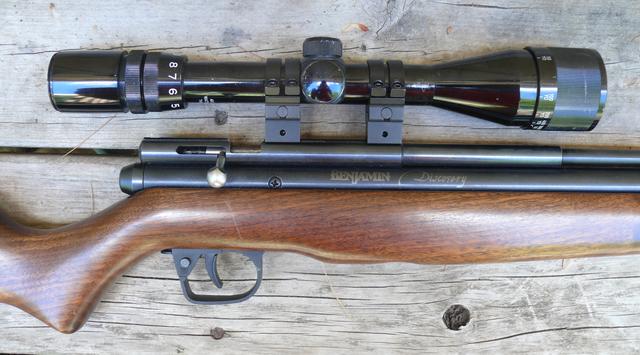 Today was windy and gusty with a headwind pushing 25 mph, at times. Not great shooting conditions for an air rifle, but as I've mentioned a number of times, a good air rifle can still shoot very respectable groups in the wind if you keep distances at 35 yards or less. It's when you push past 35 yards that wind becomes hypercritical for air rifle performance.
Here's a Discovery sight check target that included some adjustments on the scope. Nevertheless, the Disco with its heavy stock trigger and all, can deliver. This is a great example of my rule of thumb measuring stick that says an air rifle is to 35 yard shooting as a 22 LR rimfire is to 50 yard shooting. In fact, on one of those rare days of perfect shooting conditions, the Discovery has shot groups like this at 50 yards. Just can't do it reliably at 50 under less than ideal conditions like I had, today.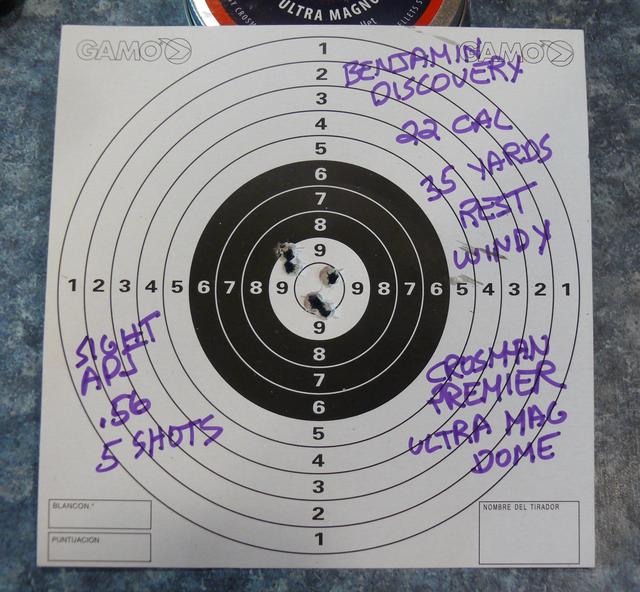 On to shooting metal targets which are the mainstay for my air rifle shooting. (I only shoot paper to check the sights, these days. Metal is a LOT more fun.) One of the interesting things about this light 5 pound PCP rifle is its power. It's actually the most powerful air rifle we own. After running a clean sweep of my favorite metal flip up target, the next shot hitting the reset actually knocked the whole target off the stand. First time for that. To get this kind of power in a spring piston or gas piston rifle would require a big, heavy rifle with a cocking effort that I couldn't handle, not to mention some very nasty piston gun recoil. No recoil, though, with a PCP. None. Zip. Just open the bolt, load and fire until the reservoir needs filling. Pretty darn cool.
And loads of fun. All done right in the back yard, to boot.