In the world of air gun shooting, we sometimes jokingly refer to PCP (pre-charged pneumatic) airguns as the "dark side", since many an air gunner forsakes all other types of air guns once they've tried PCPs. Yes, PCPs are that good (and that's coming from a diehard spring piston air gun shooter). In terms of accuracy, power, sophistication, lack of recoil, lack of noise, ease of use, PCPs rule. PCP is state of the art in air gun technology and it has been for some time.
I've been recovering from a bad accident, out on my bike trail, and have been under a weight and physical activity restriction this summer. Cocking my higher power spring piston guns has been a no no. Will have to wait until the doctor okays it. Same with pumping up my wonderful classic pump rifles like my Sheridans and my Benjamins. What's a girl to do?
Fortunately, we also have a few fine PCP guns in our collection and scuba tanks to fill them. One short trip to the garage where we store our scuba tanks, another minute to do a fill on the gun's reservoir and we're good to go. No heavy pumping required. Out to the back yard range and the fun begins.
And it is fun when you have a superb PCP rifle to shoot like our Daystate (made in England) CR 97 in 177, shown her with a Bushnell 6-18 AO scope (no recoil with PCP guns, so no special air gun scopes required or special techniques needed to shoot them.) Stock is gorgeous English walnut.

image upload no resize
As the 97 suggests, this is a late 90s era technology PCP air gun. Very few of these early Daystates made it over to this side of the pond in those days, though Daystate is a very well known and very popular PCP rifle with U.S. shooters, now. We were extremely fortunate to pick this one up, cheap, at an estate auction. The elderly gentleman who owned this CR 97 was an avid air gun shooter, something of a rarity in our area. In fact, most of the bidders at this auction had no idea what this gun was. Their loss. My gain.
Today was just a matter of checking zero at 35 yards and making adjustments as needed on the scope. Here's a sample of what a fine PCP air rifle can do. Note that this would have been five shots in one hole, but after the first two shots going high and tickling the 9 ring, I dropped two click in elevation and shot the other three. The fact that this PCP air rifle can respond so predictably to just two clicks on the scope speaks volumes about its accuracy.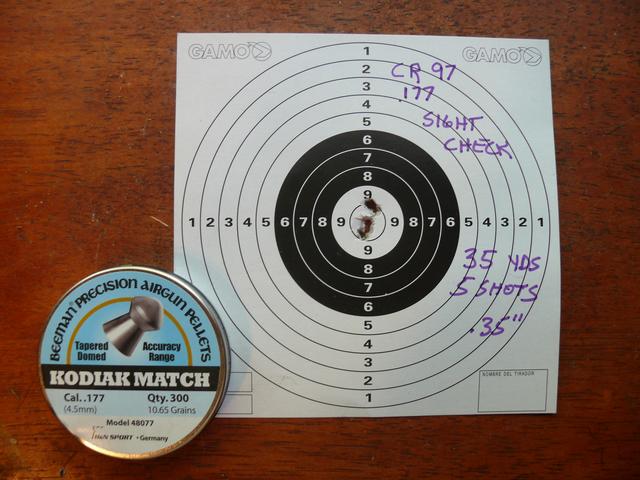 Spent the rest of the session shooting metal. Fun, fun, fun, but a bit eerie, too. The only sound a PCP rifle like this makes is a "pffhhtt" of air. The pellet hitting the target is far louder. Even more amazing is the solid way this PCP air gun wallops those metal targets. Remember, this air gun is shooting heavy 177 cal pellets in the neighborhood of 900 fps. To get this kind of power in a piston gun would require a piston gun that would be a beast to cock as well as a beast to handle in terms of recoil. Not with a PCP, though. No recoil, no noise. Just superb accuracy and all the power you want.
Not an ugly gun, either.